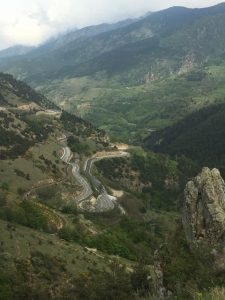 Watched some white water rafting and kayaking while we had lunch (bananas and beef burgers).  Also there was a railway bridge that was at a lower altitude than us.  Got a wave from the rafters as we took some photos.  They got into a bit of a pickle trying to get out of a whirlpool – interesting to watch.  A couple of them nearly fell out.
We ended up getting to our campsite quicker than expected!  Roads from Sort were just fab.  Route of 1000 bends.  Anyway we decided to press on towards the coast.  The temp ranged from 4 degs to 24 degs en route.  Hailstones to rain to sleet to sun.  We arrived at Collioure at about 6pm, all very wet from the so called 'squawl' (Sooty the weatherman) that turned out to be more like a full on storm.
The site is very nice.  A little on the expensive side but after blowing 100 euros in the restaurant on food and wine, it didn't to be a problem.  So much for frugal camping eh?
The wind was gusting at 45 mph so we had tents fully pegged down.  No issues.  Oddly, non of us were woken by the hurricane outside.
In the morning, all was very tranquil.  Breakfast and Blogging.  Planning to do some more of that washing stuff (the guys tell me I can't patent the idea) and then off to the town and the beach.  We are having a 'day of rest'!  So not moving tents for once.  Luxury, pure luxury.