Decided to get North side of Lake Konstaz to a place the sat nav recognised.  Nottengrottenburgersen or something.
Nice place.  Turns out Alice and Percy had booked here as well.  Must stop meeting like this!  Anyway they wouldn't let me into their hotel.  Apparently chocolate bikes only allowed.  So was referred to another which I have to say, if I had a hotel, it would be like this.  Brilliant.  Hotel Adler.
Everything electric and posh.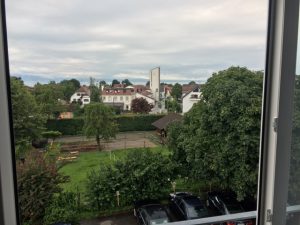 View from the window – so what eh?  But you can See A&P's hotel.  Ah ha.
Off to Innsbruck to see some Gross Knockers apparently.